Our Fleet of Cement Carriers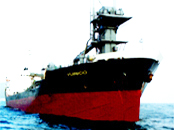 We own and operate a fleet of 34 Carriers (included 4 Pusher Barge and 3 tug boat) ships.
We cover vessels operations, maintenance, management, crewing, and administration.
Our fleet of cement carriers:
Port Of Call

We routinely call at the ports as indicated by the flag. Our service area cover Indonesia : Province of Aceh-(Lhoknga, Malahayati, Lhokseumawe) Port, North Sumatera, West Sumatera-Teluk Bayur Port, Medan-Belawan, Riau-(Dumai, Perawang Buatan) Port, Batam Island, Jakarta-Tanjung Priok, Merak-Ciwandan Port, Cirebon, Semarang, West Java-(Gersik, Tuban) Port, Surabaya-(Tanjung Perak, Nilam) Port, Lombok-Lembar Port, Banyuwangi, Bali-Celukan, Bawang, Makassar Port, Ambon Port, North Celebes-Bitung Port, South Kalimantan-Batu Licin, Pontianak, Balikpapan-Somber Port, Banjarmasin, South Sulawesi-Biringkasi, West Papua-Sorong, and Samarinda – Palaran Port.
We also call at Southeast Asia ports, Pulau Langkawi, Malaysia and Singapore. Our New Route in Malaysia-Port Klang, Vietnam-(Nghi Son, Thanglong, Hongai) Port, and Philipina-Illigan.